Cash has a particularly high value in Germany compared to other countries. It gives people a feeling of control and independence, away from an end device (e.g. smartphone).
However, mobile payment methods are experiencing a real increase during the Corona crisis. These digital payment method are much more than mere convenience or a protective measure in non-contact times. They are rather a sign of trustworthiness in online stores and have a positive influence on the customers purchasing behavior. Read this article to find out how to cleverly integrate your e-commerce payment as a marketing measure.
Contents
Preferred payment methods
An underlying scepticism toward digital payment options seems to be inherited by Germans. Yet some payment methods have established themselves and are continuously growing in popularity. On average, the transaction volume in 2020 worldwide is just under €750 per person. This includes not only electronic devices or clothing and fashion accessories, but increasingly also everyday items such as cosmetics, medicines or food.
A simpler ordering process with the preferred payment method accelerates the purchase decision, as the buyer's confidence in the retailer is strengthened.
Among the most popular online payment methods in Germany are the following:
Credit card
Direct debit "Instant bank transfer"
Purchase on account
Klarna
PayPal
Apple Pay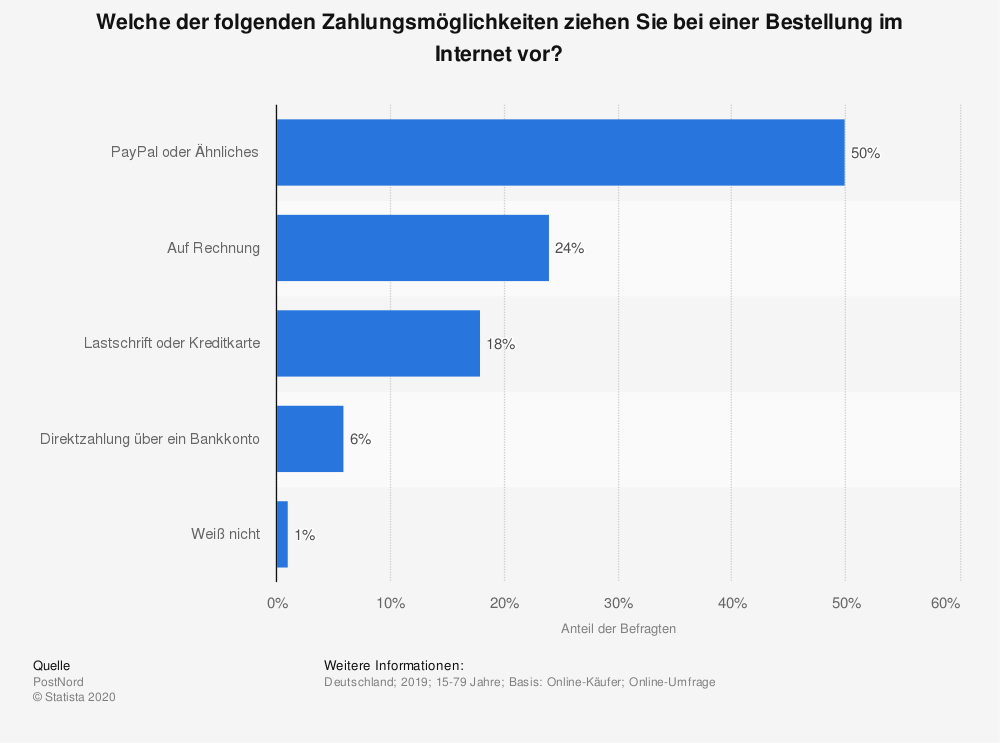 There are a number of things to consider not only on the buyer's side, but also on the seller's side when choosing payment methods. For example, payments in advance are rather unpopular with buyers and require a high level of trust in the store and the products. Therefore, this requires groundwork in terms of "trust".
Direct debit and credit card payments are very popular, but they are also susceptible to data theft and phishing. They demand particularly high security measures, such as 2-factor authentication and investments in continuous monitoring. Should data leakage occur with these payment methods, this can lead to significant image damage and loss of trust.
Voucher payments are particularly popular around the Christmas season. In addition, vouchers are a proven advertising medium for new customer acquisition, customer loyalty and customer recovery. A positive side effect for sellers: often customers make purchases above the voucher value, which leads to larger shopping baskets per customer. In addition, the probability of an exchange is reduced, since the customer has received something "as a gift".
Online payment via external service providers such as PayPal gives merchants with an uncomplicated and fast online payment process. In addition, the transaction risk is being transferred to this external service provider. However, anyone who places a lot of emphasis on data evaluation at this point may find this to be a misleading choice, as all data is being transferred to the third-party provider.
Trustworthy and well-known service providers create and increase the buying mood. Signals of trust through appropriate provider logos should not be neglected. These should always be clearly marked and linked on the home page and in the footer.
In addition to existing online payment methods, new payment methods are being added. Mobile end devices are the main focus.
The Payment App
The so-called "App Billing" is becoming more and more popular. Whether through Smartphone or Smartwatch in the supermarket or in the fashion boutique, Apple, Google Pay & Co can be found everywhere. It only takes one touch or a QR scan code to complete a payment process. This is made possible by NFC, the Near Field Communication. Near field communication technology is the leading international standard for contactless and wireless data transmission over short distances. Due to the increasing popularity of this payment method, the retail trade is also adopting it. The supermarket chain EDEKA as well as the discount store Netto have already presented their products and the LIDL retail chain also wants to follow suit with its own payment app.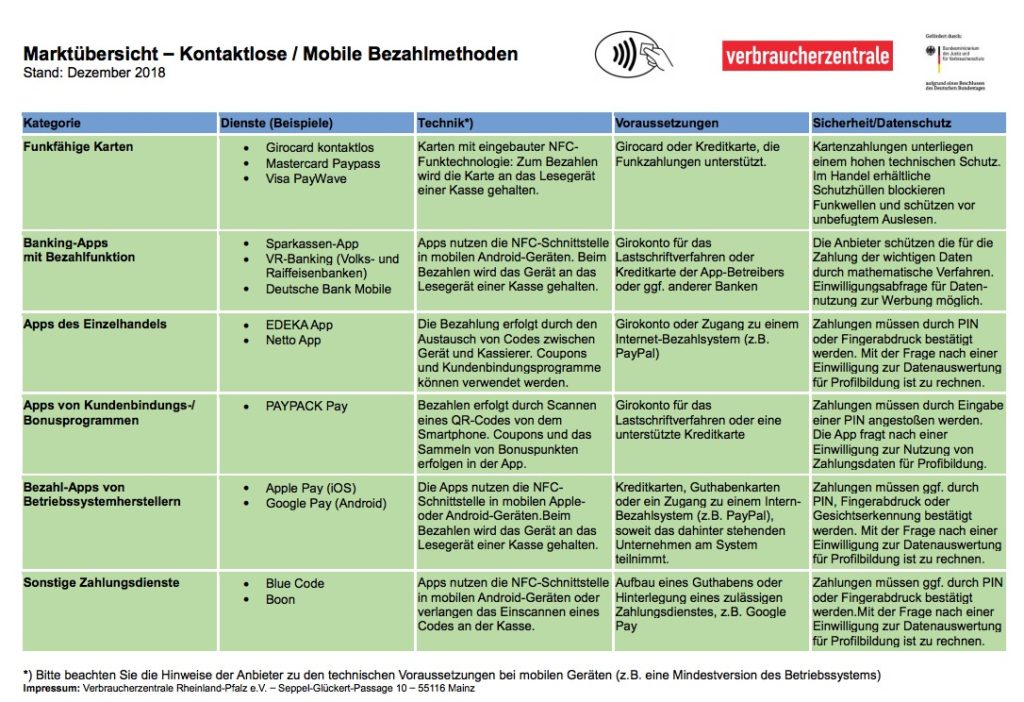 Contactless payment is not the only application of payment apps. Many shoppers prefer to pay using the same platform on which they shop or in an app they trust, such as the PayPal app.
E-Wallet
"E-Wallet" or also "Cyberwallet" is the generic term for virtual wallets through prepaid and direct debit services. PayPal is in this case a powerful service provider and an absolute must for many stores! Wallets are designed to store credit on a platform and use it for goods or services online. It can be a prepaid account, to which a usable, limited amount is loaded, or it can have a direct link to the bank account.
This payment method is very popular amongst consumers, as the service provider grants buyer protection and payments can be extended up to two weeks. The prominence of these providers in an online store is therefore enormously important. The mere fact that customers take advantage of the possibility of paying via PayPal or Apple Pay increases their trust in the store and at the same time stimulates the buying impulse, as they speak for the seriousness of the online store.
Besides, new payment trends are constantly being added to the digital wallet.
Reasons for a high purchase abandonment rate
An absolute guarantee of purchase abandonment is a lack of trust when making a payment. If the customer feels insecure during the payment process or does not find his way around, he does not think twice before aborting the purchase. As a result, it is always important to provide information about all costs (shipping, VAT) and to make them clearly visible – because we must not forget that nobody likes unpleasant surprises.
An extremely important point is the handling of external payment service providers. It is absolutely necessary to point this out, because if an unexpected action is taken in the browser, the customer will drop out and cancel his purchase. A typical example for such a case is the payment via PayPal.
When returning to the store, the customer should receive a confirmation of his successful payment and, in the best case, an order summary, a thank-you note and the reference that the invoice and the order summary will be sent again by e-mail. This seems to be an unimportant secondary matter, but in fact it is an effective and efficient marketing measure to strengthen trust.
Another killer of the purchase transaction is the missing option of the guest order. Many customers avoid giving too much of their personal information and therefore refuse to create a customer account. Some even plan to buy only once in the online store.
Also, unsafe pages must be eliminated. This can be done using communication protocols for secure data transmission and is called HTTPS transmission protocol (Hypertext Transfer Protocol Secure). This involves the secure transfer of data between server and browser. An SSL/TSL certificate is used to provide additional secure encryption (HTTPS S), making the data "secure against eavesdropping". Although the online store works without data encryption (http), the secure handling of the data can be suggested and advertised to the customer in terms of marketing: "The data input is encrypted and your data is secure in our online store, please continue shopping".
SSL and TSL Certificate
As a network protocol, SSL encryption ensures the encrypted transmission of data. A TSL certificate is a newer version of the SSL certification and offers even better protection. Both versions are DSGVO-compliant and stand under the sign of buyer protection.
Investing in e-commerce payment is worth the effort
E-Commerce payment solutions are based on investments. Different payment methods require contracts with various providers under different conditions. In addition, there may be expenses for the interfaces to the processing systems and for invoicing. To what extent a particular payment method is suitable for your own store cannot be generalized and must be weighed up individually according to costs and benefits.
It is certain, however, that the market is fragmented and that it is worth investing in payment alternatives in order to stand out from the competition. In many cases, the checkout area and the offered payment methods often decide in which store the decision to buy is made.
Conclusion
Trust is an important element in e-commerce and particularly where payment is involved. A secure connection is essential for sensitive data transmissions – such as the forwarding of account data. Data leaks in the payment process can lead to irrevocable image damage and loss of trust. Therefore, always inform your customers about the security of the transmitted data and certify the (SSL/TSL) encryption of your store. This has a positive effect on the customers' feeling of security.
Another building block of trust is provided by well-known payment systems. In addition to common agents (MasterCard, direct debit, invoice), there should be many other payment options. PayPal or Apple Pay icons in the footer signal trustworthiness, since cooperation with these service providers speaks for reliability. Even if they are only briefly perceived, they have a strong effect for marketing reasons.
Last but not least: as a retailer, say goodbye to the idea that payment options in demand are associated with high research or implementation costs. The implementation is very uncomplicated with most service providers.
Do you have questions related to your Checkout payment methods?
Sources: statista, it-zoom, internetworld, ionos, ndr, verbraucherzentrale, internetworld